Magnum Eco
Spinner (4 wheels) 75cm
Description
Meet Magnum ECO, an innovative commitment to sustainability for travellers seeking a sound, secure and stunning travel partner. The collection is crafted with recycled post-consumer waste, made in Europe and comes in a recycled packaging, without compromising on comfort or features. This unmatched combination of sustainability, security, lightness and high packing capacity is ready for your next journey!
Discover all aspects of our responsible journey on
our sustainability page
.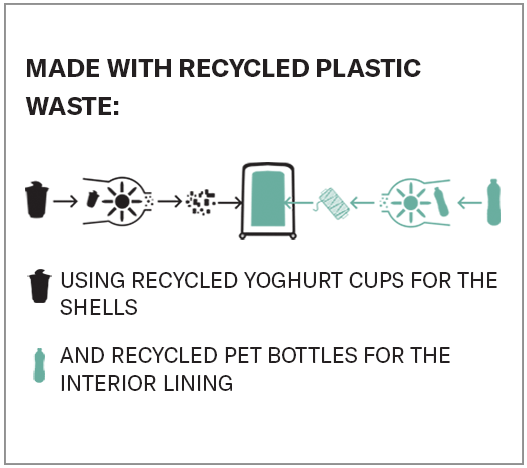 Details
Specification
Warranty
Limited 5 year global warranty
Material
Exterior: Polypropylene | Interior: Recycled PET plastic bottles
Exterior
Lock
3-point locking system with integrated TSA lock
Handles
Top, side & bottom handles
Wheels Type
Smooth-rolling wheels for enhanced mobility
Interior
Bottom compartment
Bottom compartment with divider pad and pockets
Top compartment
Top compartment with divider pad
Divider Pad
In the top & the bottom compartment
Returns & refunds
You may return unused merchandise provided you meet the rules described in Samsonite's policy on Right of Retraction.
You have the right to retract the sale agreement at any time up to 14 calendar days from the delivery date.
For more information on returns and refunds, please consult Samsonite's Returns Policy, or to exercise your right of retraction please follow the returns procedure found here.
Recyclex™ Material Technology
The shells of your product are made with recycled polypropylene from post-consumer waste, which is the equivalent of 434 yoghurt cups. The lining fabric is made of 12 recycled PET bottles (0.5L). Part of our Recyclex ® Material Technology Initiative.
Key benefits
Made with recycled materials
Our Magnum Eco collection is made in Europe and turns post-consumer waste into high-quality luggage. The shells are composed of recycled polypropylene, from yoghurt cups to ice cream containers, and the interior lining is made from recycled PET bottles.
Expect security
Safely secure all your belongings with the 3-point lock closing system. This top-notch system comes with an integrated TSA lock function: secure and easy to use.
Expect durability
Strength and robustness are guaranteed thanks to the self-reinforcing design and the high-quality recycled polypropylene.
Expect lightness
Magnum Eco is extremely light in its class. This is the result of our cutting-edge engineering and superb European manufacturing expertise.
Expect high packing capacity
The interior of Magnum Eco is highly practical yet simple. The inside of the case has a smooth texture and therefore doesn't require an interior lining. Not only does this reduce extra material being used but most importantly it enables you to easily clean the inside. The two height adjustable divider pads help to pack and compress your personal items neatly.
MAGNUM ECO
Expect a cleaner planet with our innovative and most sustainable luggage: Magnum Eco.
MAGNUM ECO
Expect a cleaner planet with our innovative and most sustainable luggage: Magnum Eco.
MAGNUM ECO
Lighten your footprint, wherever it may lead, with Magnum Eco.